Taylor Pendergast
Associate Specialist, Global Communications
March of Dimes Salute Honors Chester County Women
West's Senior Vice President and Chief Commercial Officer Karen Flynn was one of four Chester County, Pennsylvania women to be acknowledged by the March of Dimes as a Women of Achievement Honoree.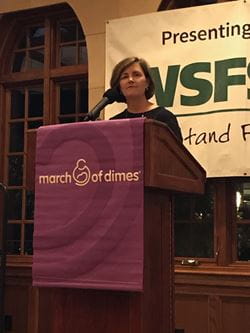 Karen received the March of Dimes' Ellen Ann Roberts Business Award for her professional accomplishments, leadership and work in the community. The March of Dimes is the leading nonprofit organization focusing on premature pregnancy and baby health. For more than 75 years, moms and babies have benefited from March of Dimes research, education, vaccines and breakthroughs.
Karen Flynn's leadership at West and her work in the community as a member of the Healthcare Businesswomen's Association, the Forum of Executive Women, a Chester County Economic Development Council's Board of Director, as well as her seat on the Downingtown STEM Academy Advisory Board, inspired her peers to nominate her for the March of Dimes Salute to Women of Achievement award.
According to Eric Green, President and CEO of West, Karen is a remarkable leader who has earned the respect of West customers and her colleagues through her natural ability to collaborate, develop strong teams, and lead with integrity.
"We know that West's products play a critical role in ensuring the safety of drugs and in making the administration of drugs to patients as effective as possible," said Karen. "For this reason, I feel that this recognition by the March of Dimes is especially rewarding. Every day, I go to work and, like the March of Dimes, my teammates at West care about ensuring health. When I had the opportunity to visit the Chester County NICU, I felt especially connected knowing that those little babies would be touched in a small but important way by the work we do."
All four honorees have made Chester County a great place to live and work, and continue to support the great efforts of the March of Dimes. Below are the 2017 Salute to Women of Achievement honorees:
Ellen Ann Roberts Business Award: Karen Flynn, Senior Vice President, West Pharmaceutical Services, Inc.
Health Award: Barbara Wadsworth, Senior Vice President & Chief Nursing Officer, Main Line Health
Public Service Award: Karen Simmons, CEO & President, Chester County Community Foundation
Lifetime Achievement Award: Mary Lou Enoches, Owner, La Difference Salon
West would like to congratulate Karen, as well as the other three honorees, on their well-deserved recognition.
Learn more about how West supports the communities where we live and work.