Page McAndrew
Director, Scientific Communications, Scientific Affairs & Technical Services
West Educational Series – Managing Risk in Injectable Drugs
West is committed to delivering safe and efficient drug packaging products to our customers. Part of that commitment involves keeping the industry abreast of the latest regulatory and technology developments/challenges in packaging and delivery. West recently hosted, at its Exton headquarters, an installment of the ongoing Educational Series, titled: Managing Risk in Injectable Drug Delivery: Regulatory and Technical Challenges and Solutions.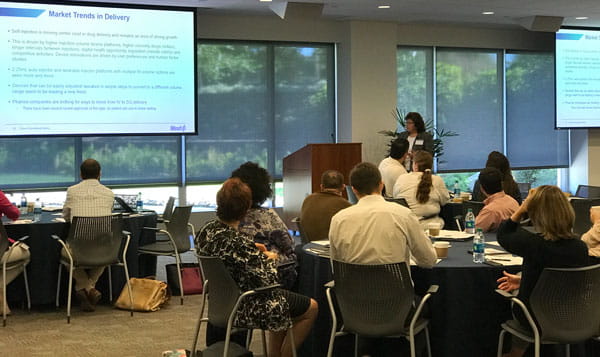 Topics and speakers included:
The Changing Regulatory Landscape. Diane Paskiet, Director, Scientific Affairs
Technical Challenges in Responding to Increasing Expectations: Material, Package and Delivery System Considerations. Fran DeGrazio, Vice President, Scientific Affairs & Technical Services
Mitigating Risks: Understanding Choices to Build Strategies to Address Industry Challenges Relating to Injectable Packaging and Delivery Systems. Lauren Orme, Technical Account Manager, Technical Customer Support
More than 30 scientists and engineers from pharmaceutical companies learned about the latest changes in regulations, as well as the challenges in managing particles, container closure integrity, extractables and leachables, and device performance. The presentations included case studies of how critical analyses of these areas enabled control of risk, as well as successful drug product packaging and delivery.
Attendees also took a tour of West's Analytical Laboratory Services facilities. West's scientific experts and excellent experimental capabilities can help customers understand regulatory and technical issues, and design and execute studies to address them.
Visit the West Knowledge Center to gain insight on industry trends and guidance. If interested in the next Educational Series or how West can support you – contact a Technical Customer Support representative.