Jennifer Raab
Manager, Lab PM, Commercial
Providing Value through Collaboration and Technical Knowledge – Analytical Lab Services Project Management
At West, patient safety is the utmost concern. Intuitively, one might not think that Project Management can have an impact on patient safety – but it does – a very important impact. West Analytical Services LLC partners with customers to design and perform studies that help to enable the safest, and most efficient, delivery of drug products in West components/systems.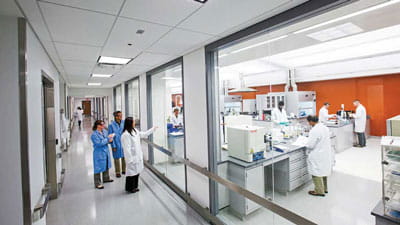 Project Management plays a key role in this partnership, and uses a defined, robust process for consulting with customers to manage these important studies. The first aspect of this role is to ensure a clear understanding of customer needs – both short and long term. Definition of these needs becomes the critical backbone for the study design that comprises strategy, objectives and agreed-upon milestones.

This study design is assembled by Product Management through collaboration with experts from Analytical Services, Technical Customer Support and the customer, with a focus on obtaining the right information and managing costs effectively. Executing the study then requires coordination of the efforts of Analytical Services staff and facility/equipment resources. Projects can vary in length – from 1 week to 5 years. As a study progress, data may necessitate a design change, which Project Management manages promptly.
A study well planned and executed delivers the right information on time, reduces risks, and helps to ensure safe and efficient delivery of drug products. The Analytical Services' Project Management team is proud to play a key role in this.
For more, visit the Analytical Services page on the website or contact Jennifer Raab, Manager of Lab Project Management Office or a Technical Customer Support representative.