West's Global Communications Team
West Corporate Responsibility Report 2018: Philanthropy
The next blog in our series on Corporate Responsibility at West focuses on philanthropy. Being a good corporate citizen has long been an integral part of West's culture. Our philanthropic efforts include corporate giving initiatives like grants and sponsorships, employee-led giving initiatives like food drives and events, and matching gifts and educational scholarships through the H.O. West Foundation. Read on to learn more about the robust culture of giving at West.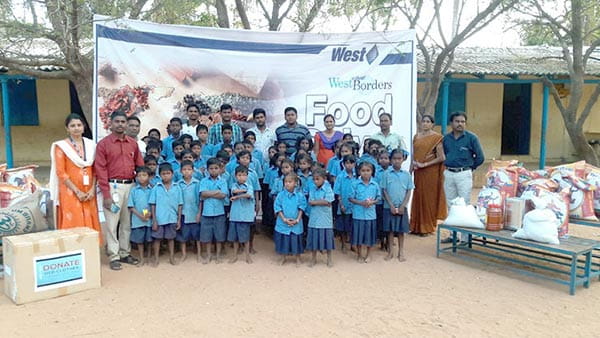 Philanthropy
For many years, West has targeted its philanthropic efforts to support charities focused on children, people with disabilities, healthcare and education, with a focus on STEM (Science, Technology, Engineering & Math) – all within the communities in which our team members live and work. The Company's giving strategy focuses on three elements: Corporate Giving through direct charitable gifts made by West Pharmaceutical Services, Inc.; the Herman O. West Foundation, an independently managed 501(c)(3) entity, which awards scholarships and matching gifts; and West without Borders*, our team member-led giving program.
One of the highlights of our 2017 team member fundraising efforts was our second annual Global Food Drive. Each year, every West site around the globe collects food that is donated to local food banks and soup kitchens. In 2017, team members collected more than 40,000 pounds of food, a 68% increase from the previous year, resulting in the equivalent of more than 150,000 meals for those in need.
In 2017, Corporate and Foundation giving reached over $1.8 million, and team member giving totaled nearly $530,000. Since the inception of West without Borders in 2004, team members have raised millions of dollars for a variety of charities located around the globe through this and other programs.
Another key accomplishment of 2017 was the collective effort to support our team members in Puerto Rico after the island was devastated by Hurricane Maria. Within hours of the disaster, West was working to provide satellite phones for our site in Puerto Rico, enabling our team members to connect with their colleagues, customers and family members. In the first month, an ice maker, washing machine, dryer and shower facilities were purchased and installed in the plant for team members and their families. Because of the devastation to their homes, 100% of our team members in Puerto Rico received an emergency relief grant through West's Employee Relief Fund, and plants from around the world rallied to send more than $10,000 worth of food and water. In addition, an Amazon site was set up for global team members to purchase much-needed items such as batteries and fans, and West's Corporate Office donated $20,000 to support the American Red Cross' efforts on the ground in Puerto Rico.
Click here to view the full 2017 Corporate Responsibility Report.
*West without Borders is not affiliated with Doctors Without Borders®, which is a registered service mark of Bureau International de Medecins San Frontieres.