Deirdre Swinden
Director, Marketing Communications
West and SCHOTT Partner on Parenteral Packaging Educational Series
In March technical experts from both West and SCHOTT joined together to share insight on the current trends and challenges of the injectable drug market. The two companies held technical seminars sharing their knowledge and expertise related to component and container selection, as well as the integration of primary packaging for filling from clinical to scale up.

Some of the key trends shaping the industry are identified below. These challenges were discussed in detail and a risk-based approach for container selection was reviewed to address them.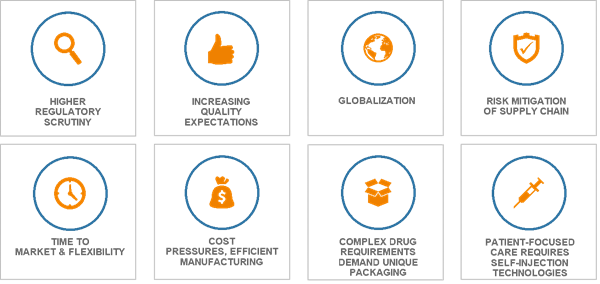 For companies developing injectable drugs in this complex environment, three questions were outlined to guide the discussion from the experts at West and SCHOTT:
1. How do we keep complex drugs stable in the primary container?
This session explored the importance of potential drug –container interactions, extractables and leachables testing, elastomer films and coatings, glass material selection, glass container manufacturing, and associated risks like delamination. A review of various primary container types (vial, prefilled syringe, cartridge) was also outlined specifically evaluating the integrity of the components together as a system.
2. How can we implement primary container components for R&D testing, clinical trials, and commercial batches?
This session reviewed the manufacturing and processing technologies for primary packaging components, including the growth of RABS and Isolator technology, flexible fillers, and the value of adopting ready-to-use components for both elastomers and glass containers. Outlined solutions for R&D filling to commercial manufacturing with focus on flexibility, quality and total cost of ownership (TCO).
3. How can delivery devices be incorporated as part of life cycle management to offer further drug product differentiation?
Considering the topic of life cycle management, the market drivers for home and self-administration delivery devices was reviewed with an assessment of the features and benefits of the various delivery technologies. The strategic decisions for evaluating a device were discussed as products move from vial containers into syringes and cartridges. Novel devices, including wearable injectors to address the growth of larger volume drug delivery, were also introduced.
We encourage you to reach out to your technical support teams at West and SCHOTT to discuss specific drug product requirements.
Considering the positive feedback from the audience, SCHOTT and West will be organizing joint educational series in future. Please check the West and SCHOTT websites for updates on these events. If you are interested to know more about the educational series please contact us here.