Frederike Ferber
Specialist, TCS, Commercial, EU
Evolution in Biologic Drug Products – Need for Administration of High Viscosities
Biologic drug products are not new – their development began decades ago; the first monoclonal antibody was commercialized in 1986. [1] With the increasing availability of genetic information, and better understanding of subcellular cascades and disease processes, the number of biologic drug products available has increased substantially in response to an exponential growth in targets. [2]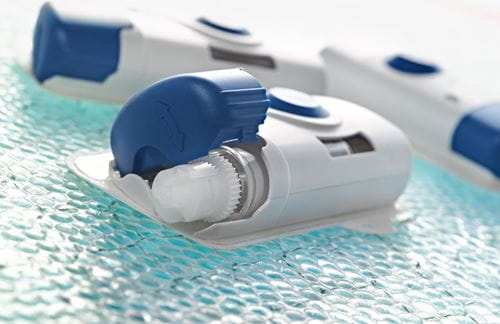 Biologic drug products can be composed of sugars, proteins, nucleic acids or combinations thereof – also they may be composed of living entities such as cells and tissues. Frequently, they involve large, complex molecules [3] and are often administered parenterally [4].
A critical concern in formulation development is the relationship between API concentration and drug product viscosity. Large molecules result in high viscosities, but high viscosity drug products cannot be injected easily. As a result, dilution is performed, which may result in large dosage volumes.
Delivery of large volumes is a challenge. A way to address this is with pre-programmable, easy-to-use, wearable injectors – such as the West SmartDose® drug delivery platform – that can deliver larger volumes at a pre-programmed delivery time. West is committed to safe, efficient delivery of drug products to patients.
For more on how West can support your drug product, contact a Technical Customer Support (TCS) representative or visit the Delivery System section of the West Knowledge Center.
SmartDose® is a registered trademark of West Pharma. Services IL, Ltd., a subsidiary of West Pharmaceutical Services, Inc.
West markets SmartDose® as a multi-component system only. Final assembly of the prefilled component is completed by the pharmaceutical company.