West Corporate Communications Team
West Locations in Germany Join Forces to Support Children's Charities
West's three locations in Germany recently concluded an impressive fundraising campaign as part of West without Borders, West's employee-led giving program.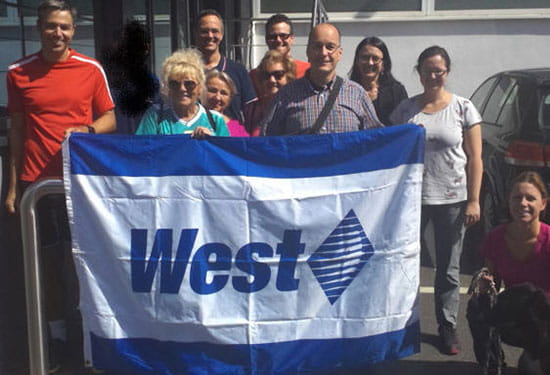 The employees from each of these locations joined together to support three local children's charities:
Fortschritt StädteRegion Aachen e.V.
Loosely translated, this means "Step Forward." This organization provides special treatment to help physically and mentally disabled people to make the next step. Funds raised during the West without Borders campaign will help to provide conductive training, such as first aid, with a focus on disabled children.
Zwischen Uns e.V.
This organization supports disabled individuals living and working in our communities. Funds raised will aid in the setup of workplaces for disabled young people in order to give them the chance to work in a more personalized environment.
Lichtblicke – Helfen Sie uns zu helfen! e.V.
"Help us to help others," this organization supports children and adolescents with cancer or other serious illness. Collected donations will help to support a special Christmas event for children with cancer and their families.
Throughout the months of May and June, each location held a variety of events to raise money to support the work of these important organizations. The events included raffles, games and specialty food items for employees to purchase, such as a Hot Dog Day in Eschweiler, a Burger BBQ in Stolberg and Smoothies by the Women's Investing and Networking (WIN) Committee in Kiefernweg. Some of the more unique fundraising opportunities included:
Soccer World Cup Tip Kick Game: Before the Soccer World Cup in Russia, an employee in Eschweiler set up an online tip game that colleagues could join by smartphone or laptop. Each participant paid 10€ and make a guess as to who would be the World Champion, along with second and third place.
WalkWestic: In Kiefernweg and Eschweiler, team members could register to walk for a good cause during the entire month of June. At the beginning of the month, each participant received a step counter. The goal was for participants to get as many steps as possible AND to get sponsors! Sponsors paid 5€ and for every fifth sponsor, a participant would get an additional 1,000 steps on their account. The standings were displayed every week in a "Walk of Fame" at the Kiefernweg campus. The event turned out to be a fun challenge of friendly competition – all for a good cause!
Returnable Bottles: For the last couple of years, the Stolberg employees raised funds by inviting employees to bring in their returnable bottles and donate their deposits to the West without Borders campaign. This year, the apprentices also rolled out this initiative to the Eschweiler and Kiefernweg sites. Altogether, approximately 3,500 bottles were collected as a result of this initiative!
Reserved Parking: In Stolberg, team members could pay to get one of the management team's parking spots for a day or a whole week.
In total, the team in Germany raised more than 12,000€ to support their selected charities. Congratulations and many thanks to the entire team for your participation and generosity!
For more information on Our Culture of Giving click here.
*West without Borders is not affiliated with Doctors Without Borders®, which is a registered service mark of Bureau International de Médecins San Frontières.