Simon Cote
Director, Technical Accts, TCS, NA
Flexible Fillers: What's All the Hype?
A flexible filler is a single filling line capable of processing vials, syringes, and cartridges. Traditionally a filling line is designed to process only one container type. By using a flexible filler, the drug innovator or contract manufacturer can decrease capital expenditure, decrease facility "footprint," improve product and format-parts change over, and reduce product loss.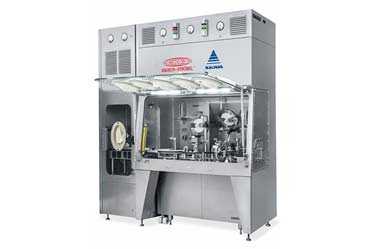 Courtesy of Bausch + Ströbel
Flexible fillers are rapidly becoming commonplace in many high-value, low-volume applications. They are most commonly outfitted with isolators; but restricted access barrier systems (RABS) are also still utilized. Batch sizes typically range from 100 to 20,000 units, making them ideal for process development, product characterization, clinical trials, and small-scale commercial runs.
There are some notable differences between the two main types of flexible fillers: 1) modular/adaptive and 2) robotic.
Modular/adaptive fillers use modules or stations that can be changed depending on the container type. The filling technology and processes tend to be similar to traditional fillers – such as stoppers, plungers, and seals being transferred by feeder bowls and tracks. The containers, however, are usually in nest and tub formats. An example of a modular/adaptive filler is seen in the image above.
Robotic fillers use robotic arms and vision systems (minimizing format change parts). Unlike traditional or other flexible fillers, robotic fillers require that all container closure components must be introduced and processed via a nest and tub configuration. There are limited, or no, steps in which the container is removed from the nest, resulting in the need for alternative closures systems – different from that of the common stopper and aluminum seal. Plastic snap-cap systems, which incorporate an embedded stopper, have been developed specifically to address this need. An example of a robotic filler is seen in the following image.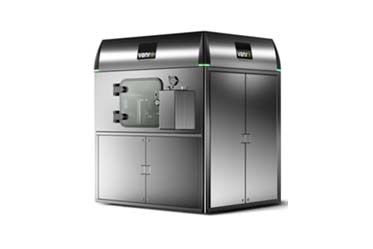 Courtesy of Vanrx Pharmasystems
Given the different requirements of the two flexible filler systems, it is critical to ensure both selection of correct components, and proper package configurations. Collaboration with the West account team will greatly improve the rate of success. In addition, as part of West's Integrated Solutions Program, West can help Simplify the Journey™ with fill/finish support services from early development through small-scale commercialization.
Simplify the Journey™ is a trademark of West Pharmaceutical Services, Inc., in the United States and other jurisdictions.