Ranjana Singh
Sr. Scientist, Insight Labs
Simplify the Journey™ – Selecting Compatible Container and Delivery Systems for Protein/mAb Drugs
To promote patient safety and the stability and efficacy of protein-based drugs, including mAbs, it is important to store the drugs in compatible container and delivery systems. From the time of storage until the drug reaches the patient, the protein interacts with the surfaces of these systems, which can impact the drug's stability. The drug also can be affected by the various mechanical stresses and elevated temperatures to which it may be exposed during shipping, handling, and delivery.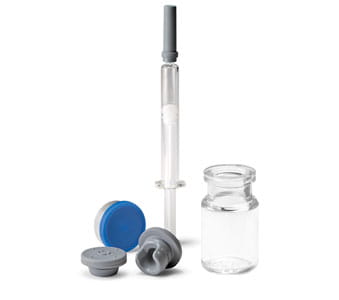 The impact of these stresses on the protein can be reduced greatly by using systems with favorable surface properties, such as vials or syringe barrels comprising Daikyo Crystal Zenith® cyclic olefin polymer and FluroTec® film-laminated stoppers or plungers. Scientists from West's Scientific Insights Lab have recently published on how to identify compatible primary container and delivery systems for protein-based drugs: A Streamlined Bioanalytical Approach to Select a Compatible Primary Container System Early in Drug Development: A Toolbox for the Biopharmaceutical Industry, Journal of Pharmaceutical Sciences, 109 (1), 206-210 (Jan 2020).
West utilizes this platform to examine drug compatibility with components (syringes, vials, stoppers, plungers, and cartridges) and treatments (laminations and siliconization). The platform requires that the drug first be stored in the various containers at 5°C and 40°C for up to 60 days. In a separate phase, the drug is then agitated end-over-end in the various containers for up to 24 hours.
The stability of the drug is monitored thoroughly with several techniques: size-exclusion-HPLC, hydrophobic interaction chromatography, ion exchange chromatography, capillary isoelectric focusing, dynamic fluid imaging, intrinsic and extrinsic fluorescence and dynamic light scattering. Thus, the container or delivery system that maintains the greatest drug stability is identified. The format of the platform is customizable, in accordance with the properties of the drug product and the goals of the client.Development of strategies such as this are part of West's focus on helping to support the safe delivery of drug products.
For more about how West can assist, contact an Account Manager or Technical Customer Service (TCS) representative.
Simplify the Journey™ and FluroTec® are trademarks and registered trademarks of West Pharmaceutical Services, Inc., in the United States and other jurisdictions.
FluroTec® technology is licensed from Daikyo Seiko, Ltd.
Crystal Zenith® is a registered trademark of Daikyo Seiko, Ltd.
Daikyo Crystal Zenith® technology is licensed from Daikyo Seiko, Ltd.