Darshana Chavan
Technical Account Specialist, India
AccelTRA® RTS/RTU Components to Meet Premium Domestic Market Needs
To meet the ever-increasing demand of growing domestic pharmaceutical markets, the AccelTRA® Components Program has expanded to include an RTS/RTU product line with Ready-to-Sterilize (RTS) and Ready-to-Use (RTU) gamma sterilized stoppers developed to provide an innovative customer service package to help customers get their products to market quickly.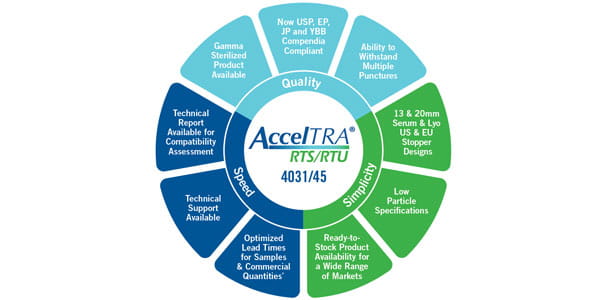 How do AccelTRA® RTS/RTU components meet customers' premium domestic needs?
The AccelTRA RTS/RTU product line is designed specifically for customers manufacturing in or exporting to non-North American markets to help meet either their premium domestic market needs or export needs to Europe, Asia Pacific, and elsewhere.
AccelTRA RTS/ RTU stoppers are available with features that address customers' technical requirements. The AccelTRA components program also supports customers with optimized lead times, helping them get their products to their desired markets quickly.
AccelTRA RTS/RTU components are to be considered by pharmaceutical companies because of following reasons:
A 'Made-to-Stock' product with optimized lead times for sample and commercial quantities
Available with West's high-performing bromobutyl formulation, 4031/45 Gray
EP, USP, and JP compendial compliance, along with YBB compliance
Ability to withstand multiple punctures
Available in Serum and Lyo stoppers
Material Characterization report available with extractables information to help customers focus on extractables of interest
Technical Customer Support service that can provide theoretical compatibility assessment for customer products
Technical Reports
Produced in one site and inventoried in diverse warehouses
These features help customers platform their drug products with AccelTRA® RTS/RTU components, thus standardizing on "one" elastomer offering to reduce overall stopper SKUs and inventory costs to address their premium domestic or export needs for non-North American markets.
West understands domestic market requirements and has developed aprogram that will help address customers' needs with Quality, Speedand Simplicity. Learn more about the AccelTRA Component Program and the AccelTRA RTS/RTU components here.
AccelTRA® and logo are registered trademarks of West Pharmaceutical Services, Inc., in the United States and other jurisdictions.