Rebecca Gomezrueda
Assoc. Technical Account Specialist
Prefillable Syringes 102
When combined with the industry trends of increased regulatory scrutiny and higher focus on patient safety, risk management, and compliance, the market is seeing an increased need for high-quality drug delivery systems such as prefillable syringes.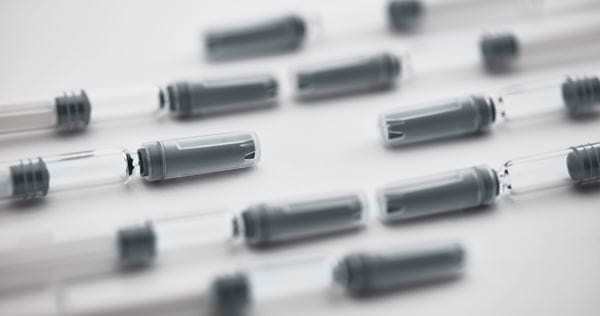 Prefillable syringes have become an increasingly important option in the packaging and delivery of injectable drug products due to two major factors:
Patient and market trends drive change in pharmaceutical packaging, and as access to healthcare becomes more sophisticated, the patient's role is changing from not just recipient but also to participants
Drug product trends include a greater focus on sensitive biological drugs, smaller batch sizes, and specialized, high value treatments.
The prefillable syringe serves two major purposes.
A primary packaging system assuring that there is no adverse effect on the identity, strength, quality, purity, or potency of the drug over its shelf life.
A delivery system designed to reliably administer the appropriate amount of the drug.
Benefits of prefillable syringes include:
Eliminating overfill of expensive drug products, therefore reducing waste.
Reducing the frequency of dosage errors, since the exact amount of a deliverable dose is contained in the syringe (unlike a vial system).
Ease of administration due to the decreased number of steps that may be required compared to a vial system that might require additional steps, e.g., reconstitution, before injection of a drug.
Added convenience for health care workers and end-users, in particular, easier self-administration and use during emergency situations.
Typical Prefillable Syringe System
A prefillable syringe system is composed of the liquid drug, the syringe barrel, the elastomeric plunger, the tip cap or needle shield, the plunger rod, and depending on the application, the backstop or finger flange. The typical fill volume is 0.5mL to 5mL. Traditionally, a prefillable syringe barrel has been made from glass tubing. Syringe manufacturers typically form and process the glass. Pharmaceutical companies purchase syringes and the complementary elastomeric components (e.g., plungers, tip caps, needle shields) that complete the primary package. Prefillable syringe designs can include double chamber syringes, syringes with fixed needles, insert needle syringes, and luer lock syringes.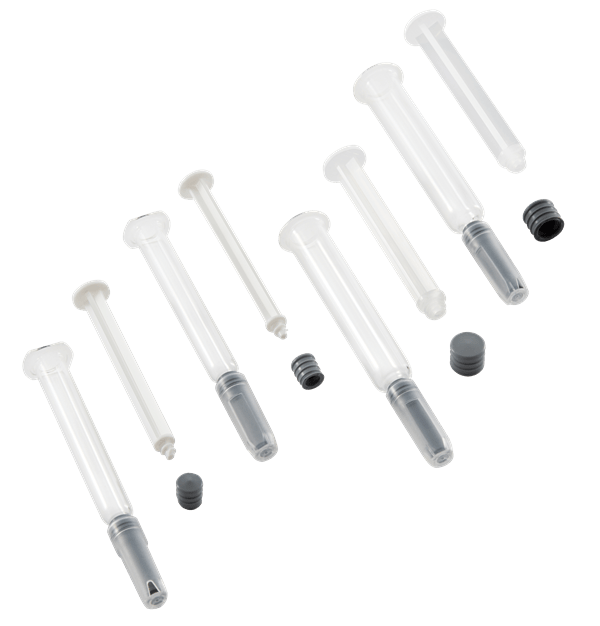 Polymer vs Glass Prefillable Syringe Systems
There are two major types of prefillable syringe systems:
Glass-based systems
Polymer-based systems (for example, based on Daikyo Crystal Zenith™ cyclic olefin polymer)
The benefits of glass systems include:
Health care practitioners' long history of familiarity
The fact that the majority of prefillable syringes are glass and have a known regulatory path.
Greater number of companies who can manage glass systems
Multiple proven suppliers of glass components.
Stronger barrier properties (H2O, O2)
There are, however, drawbacks:
Risk of breakage
Risk of heavy metal ion release
Risk of sodium leaching due to corrosion of the glass
Higher dimensional variation compared to polymer syringes' tight dimensional controls during molding
Risk of contamination in the form of tungsten residue from pin and adhesive for needle bonding
Variation in break-loose and extrusion forces due to potential inconsistent application of silicone oil
The fact that proteins may preferentially adsorb to glass more as compared to polymer systems
Potential incompatibility with gamma or e-beam sterilization
Polymer-based syringe systems are gaining acceptance because of their benefits compared to glass systems. For example, the Japanese market has transitioned many of its syringe applications to polymer because of superior performance.
The most widely used prefillable polymer syringe systems are manufactured from cyclic olefin polymer (COP) and cyclic olefin co-polymer (COC) resin. It is imperative to understand the unique characteristics of the polymer syringe system because the package choice is critical in ensuring the long-term success of a drug product.
The benefits of polymer-based systems over glass systems include:
High resistance to breakage
Compatibility with e-beam sterilization
Greater design flexibility than glass to develop novel delivery devices
Tight dimensional control during molding
Potential reduced protein adsorption and aggregation
Absence of tungsten and adhesive
Absence of heavy metals
However there are still drawbacks, including:
Potential requirement for fill machine adaptations to mitigate static and scratch
Unsuitability for oily formulations
Fewer supply sources than glass
Higher permeability to O2 and H2O, compared to glass
Shorter history of use in the marketplace, compared to glass
Whether a glass or polymer system is right depends upon specific needs.
Prefillable Syringe Plunger Selection and Additional Components
In addition to deciding between a glass or polymer barrel there is the matter of selecting a plunger. The main requirements for prefillable syringe plungers include compatibility with glass or polymer syringe barrels, compatibility with the drug product, compatibility with gamma-irradiation or steam sterilization, and good break loose and gliding forces.
Decisions when selecting a plunger include the elastomer formulation (typically bromobutyl or chlorobutyl), the barrier film and/or coating (FluroTec® barrier film, silicone oil, or B2 coating), and the processing of the plunger (bulk, washed, or sterile). If a needle shield or tip cap is required, West has several options including rigid needle shields, soft needle shields, and tip cap designs.
Analytical Testing for Prefillable Syringes
As part of our commitment to Simplify the Journey™ for customers, West offers expert consultation and container closure integrity testing in alignment with USP Chapter <1207> Sterile Product Packaging – Integrity Evaluation. This testing is essential to help customers demonstrate prefillable syringe performance, in particular:
Proper selection of primary container/component attributes (design, dimensions, coatings)
Appropriate fill-finish process (manual, automated, vacuum vs. vent tube placement)
Proper headspace
In addition to CCI testing, West's lab capabilities include:
Needle pull-out force
Residual volume
Break loose and glide force
Deliverable volume
Particle analysis
Extractables & leachables
Luer connectivity
Burst resistance
Biocompatibility and compendia testing on system
Stability testing on system
The West team can assist in putting together a holistic testing plan for a prefillable syringe system.To learn more about prefillable syringe systems, click here.
FluroTec and NovaGuard are registered trademarks of West Pharmaceutical Services, Inc., in the United States and other jurisdictions.
FluroTec and B2-Coating technologies are licensed from Daikyo Seiko, Ltd.