Josephine Lim
Manager, Global Communications
West Singapore Celebrates 40 Years; Inaugurates Newly Advanced Facility
West's location in Jurong, Singapore celebrated 40 years of operations and announced an inauguration of the newly advanced facility last month. This site's updates will improve manufacturing efficiency for the future of containment for injectable medicines. Last month, Eric Green, CEO and President, customers, and other West executives attended the festivities and ribbon cutting.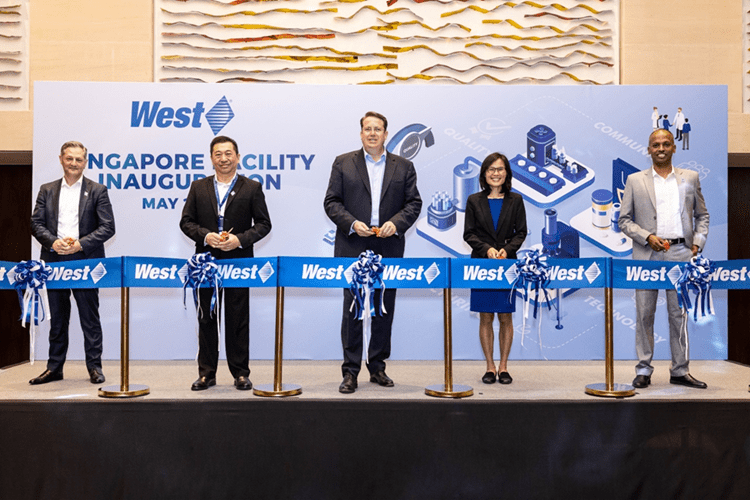 From Left to Right: Bernard Birkett, SVP, Chief Financial and Operations Officer; Marcus Tang, Senior Director, Operations, Jurong; Eric Green, President, CEO and Chair of the Board of Directors; Goh Wan Yee, SVP and Head of Healthcare, Singapore Economic Development Board; and Alagu Subramaniam, Senior Director, Sales and Commercial Operations, Asia Pacific at the inauguration ceremony of West's upgraded manufacturing facility in Singapore
In a press release about the event, Eric Green, President, CEO, and Chair of the Board of Directors said, "This year, West celebrates a major milestone - its 100th anniversary. As we embark on the next century of scientific innovation, we look forward to strengthening our global networks to meet the needs of the growing critical changes in healthcare and drug delivery. This investment in our Jurong facility will continue to play a critical role in fulfilling our purpose of providing customers and their patients access to medicines globally."
The inauguration is a part of our commitment to invest more than $350 million globally in 2023, with the majority used to expand capacity and deliver on demand of drug customers for the company's products and services, and to meet the growing needs of customers to support sensitive and complex molecules and the changing regulatory environment.
The investment in Jurong comes at a critical time as the advancement of biologics is reshaping the way many diseases are prevented, diagnosed, and treated. This allows us to serve customers' needs by providing high-quality containment products for injectable drugs from start to finish at one location, in the Asia Pacific region, helping to reduce overall lead times for our customers.
Capacity and capabilities expansion for future demand
With our robust capital expansion program, the 18,000-square-meter Jurong facility is now equipped with industry-leading coating, pharmaceutical washing, sterilization and automated vision inspection capabilities for elastomers. This minimizes the risk of potential contamination and compatibility issues with packaging components. In addition, new molding and compounding equipment have been installed with improved energy efficiency and automation capabilities.
West's Jurong facility now has the capabilities to manufacture a full range of advanced containment products, such as components having Westar™ Select quality level, Envision™ verification process, and FluroTec™ barrier film, to meet the healthcare industry's growing focus on biologics, including cell and gene therapeutics, while providing customers with stronger on-the-ground technical support. It will also support Singapore in achieving a complete supply chain manufacturing capability for future vaccine response.
West Jurong, Singapore 40 Years of History
As a leading biomedical sciences hub at the heart of Asia, Singapore has a high concentration of global players and clustering of industry leaders. It also offers a pro-business environment, infrastructure, talent and innovation ecosystem. These factors have enabled us to grow significantly over the past four decades and will continue to support the company's success.
West's enhancement of its manufacturing capability and expansion of its manufacturing capacity strongly supports the Singapore government's 'Manufacturing 2030' Plan. In return, we have received reciprocal support from the Government in facilitating business operations.
Singapore is a key location within the West global manufacturing network. The country has warmly welcomed us since 1983. In 1991, the second production building was set up and the facility expanded with the administration building. In 2014, they established an R&D center in Jurong, which serves as the technical hub for Asia Pacific.
Over the last 40 years, we have grown our presence in Singapore across three locations - the Summit Office, the Jurong Manufacturing facility, and the Gemini laboratory.
West continues its commitments to sustainability
In line with West's focus and commitment to sustainability, the company installed an eco-friendly cooling tower control system to optimize energy at the facility. This new system will result in total energy savings of 281,772 Kwh and a reduction of 115 tons of CO2 emissions annually. A feasibility study is also underway to install solar panels on the facility's rooftop.
West employs more than 600 people across three locations in Singapore - the JTC Summit Office, the Jurong plant, and the Gemini laboratory. To date, over 200 new jobs have been created as part of the investment and we anticipate approximately 40 additional roles to be added by the end of 2023.
For more information on our environmental sustainability efforts click here.