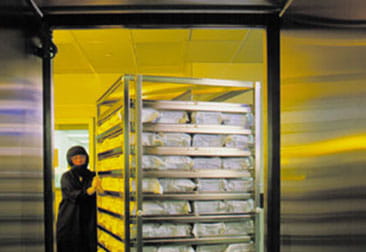 To meet the diverse needs of customers, West offers a broad portfolio of rubber stoppers and plungers, as either:
Westar® Ready-to-Use (RU) sterile components – washed and ready to use in a STERIlizableBAG™ or ported bags (sterilized by autoclave), or
Westar® Ready-to-Sterilize (RS) components – washed and ready to sterilize in a STERIlizableBAG™ or ported bags
For Westar RU sterile components, assurance is to a sterility level (SAL) of 10-6 or better, i.e., probability of microbial contamination is no greater than one component per one million (Guidance for Industry: Container Closure System Integrity Testing Lieu of Sterility Testing as a Component of the Stability Protocol for Sterile Products – https://www.fda.gov/RegulatoryInformation/Guidances/ucm146074.htm)
Westar RS components must be sterilized by the pharmaceutical company. West typically recommends autoclaving: (a) a steam cycle at a minimum temperature of 121.1°C (not to exceed 123°C) for a maximum of 60 minutes, followed by (b) a drying cycle at 105°C for a maximum of 8 hours. For select applications, gamma irradiation may be the right choice. Whatever method is used, the pharmaceutical company must ensure that sterilized components meets sterility and compendial standards (USP <381> and EP 3.2.9).
West Technical Customer Support can assist in selecting the right sterilization method, and in collaboration with Analytical Laboratory Services, to perform compendial tests.
For more information on closures or sterilization, contact a Technical Customer Support representative or visit the Knowledge Center.
STERIlizableBAG™ and Westar® are registered trademarks or trademarks of West Pharmaceutical Services, Inc. in the United States and other jurisdictions.