Elizabeth Crawford
Exton Communications Team Intern
Corporate Responsibility Report – Part 2: Philanthropy
In Part 1 of this blog series, we highlighted the Compliance and Ethics section of West's inaugural Corporate Responsibility Report.

In Part 2, we will cover West's commitment to serving the communities in which we live and work.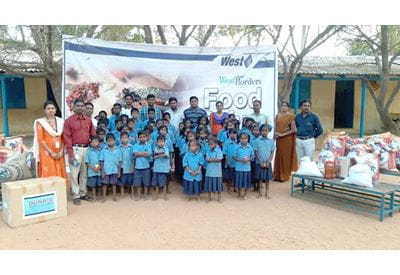 Philanthropy
Since the early days of West, our employees have always been committed to serving the communities in which we live and work. We focus our philanthropic efforts on four core areas: healthcare; education, with a focus on STEM – Science, Technology, Engineering, Math; children and the disabled.
In 2016 alone, West's Corporate and Foundation Giving reached over $1.8 million and our Employee Giving totaled nearly $600,000. Our giving strategy is comprised of three initiatives: Corporate Giving, through direct charitable gifts made by West Pharmaceutical Services, Inc.; the Herman O. West Foundation, an independently managed 501(c)(3) entity, which supports a variety of organizations; and West without Borders, our employee giving program. Since the inception of West without Borders in 2004, employees have raised millions of dollars for a variety of charities through this and other programs.
One of the highlights of our 2016 charitable efforts was the first West Food Drive, in which CEO Eric M. Green challenged every employee to donate at least five pounds of food. West employees rose to the occasion, donating more than 6.2 pounds of food per employee and over 42,000 pounds company-wide. Teams from China and India set the pace, with the team in China donating an average of 27 pounds of food per person. Even more impressive, our team of 66 employees from India collected over 61.64 pounds per person.
Nurturing a culture of philanthropy and community involvement is one of the defining characteristics of our company. We are especially proud that our employees regularly come together to give back and volunteer their time to many charities throughout the globe.
Stay tuned for the next blog in our five-part series. Part three will delve into West's diversity initiatives. Please click here to learn more about Corporate Responsibility at West and here to read more about West's culture of giving.