Page McAndrew
Director, Scientific Communications, SA and TS
Selecting the Right Package System – a New Approach
In the pharmaceutical industry, it is well known that: The drug product picks the package. Not all package systems are compatible with a particular drug product.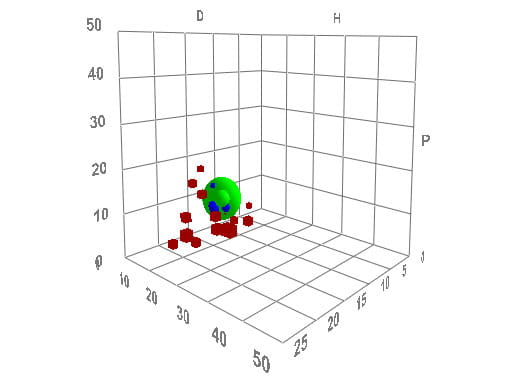 Figure: HSP of the lyophilized BSA powder determined by HSPIP software
For biologic drug products especially, selecting the right package system is essential; the wrong selection can result in deleterious interactions, e.g.:
denaturation of protein: either diminishing effects, or worse, inducing immunogenicity
formation of particles: larger particles present risk of syringe blockage and blood vessel occlusion – smaller particles present risk of immunogenicity
Typically, selection is made empirically. At 2018 PepTalk, West's Dr. Liang Fang, Principal Scientist, Scientific Insights Laboratory, spoke on a new approach to aid selection, in a poster titled Protein Adsorption Explained by Hansen Solubility Parameters. This approach is theoretical – it employs Hansen solubility parameters to understand the interaction of protein molecules with surfaces, and how that interaction is influenced by intermolecular forces. It represents a high-throughput method that can screen-out package system components that are likely to have an unwanted interaction with drug product, and enables focus of always-limited experimental resources on components that are likely not to have an unwanted interaction. This approach does not eliminate the need for experimental evaluation of a package system; rather it makes it more efficient.
West is committed to safe, efficient delivery of drug products to patients – developing new methods to select the right package system is a key element of this commitment. For more on West products and services, contact a Technical Customer Support (TCS) representative or visit the Knowledge Center.