West's Global Communications Team
West Corporate Responsibility Report 2018: Health and Safety
Recently, we posted the first part of our Corporate Responsibility Report blog series focusing on Environmental Responsibility. This series will cover each of West's key areas of focus where we feel we can make the greatest impact: Environmental Responsibility, Health and Safety, Compliance and Ethics, Diversity, Philanthropy and Quality. In this part of the series, we are focusing on Health and Safety, and the proactive approach West is taking in this area.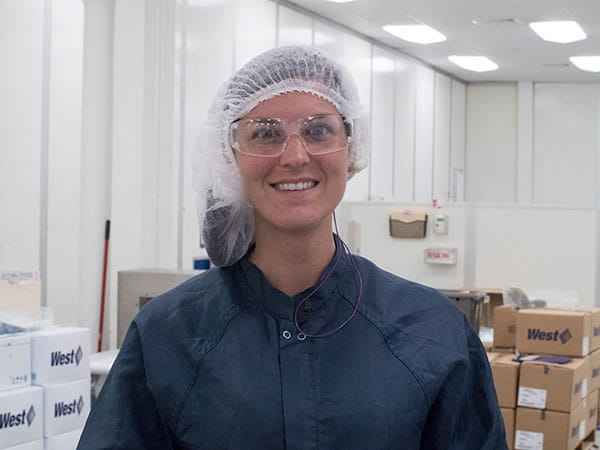 At West, we believe that a healthy and safe workplace is a fundamental right of everyperson. We take responsibility for maintaining a safe workplace at every site and work hard to minimize the risk of incidents, injuries and exposure to health hazards for all team members, contractors and visitors. It is West's policy to comply with all applicable health and safety laws and regulations, designing and operating our facilities to provide team members with a healthy and safe workplace.
We firmly believe in the importance of cultivating a culture of safety where every team member has a shared responsibility and is engaged in safety. This mindset is led by our President and CEO, Eric Green. At each company-wide meeting, he includes a message about safety, often reciting his commonly used statement, "one incident is one incident too many."
Each facility at West has a Health and Safety committee, comprised of a variety of team membersat the site. The responsibility of each of these committees is to:
Increase awareness for health & safety
Identify and track closure of workplace hazards
Assist in the development of safe work procedures
A culture of safety is evident throughout our sites. Many locations hold an annual Safety Week, to engage our team and help them develop a safety mindset. Safety Week events include health and safety education and training, and often a series of activities, games and contests, all focused around health, safety and accident prevention.
In 2017, West began planning for the roll out of a new Health, Safety and Environment (HSE) Management System, which is designed to establish a global, uniform approach to key areas of HSE, all tied to leading indicators, utilizing proactive activities and controls to help reduce and/or eliminate accidents within operations. This system will include a new HSE tracking software that has the capability of entering specific events (such as incidents, near misses, behavior-based safety observations and environmental activities) in a more efficient and effective way.
Click here to view the full 2017 Corporate Responsibility Report.