Victoria Morgan
Director, Segment Marketing, Global Biologics
Why a Diagnosis of Leukemia Means a Possibly Complicated Journey Ahead
Have you thought about the complexities of a patient's journey through treatment? Navigating from leukemia diagnosis to treatment can be a difficult one. Informing family members, managing loved ones' reactions, weighing the many different treatment options and facing the reality of multiple hospital visits can be overwhelming.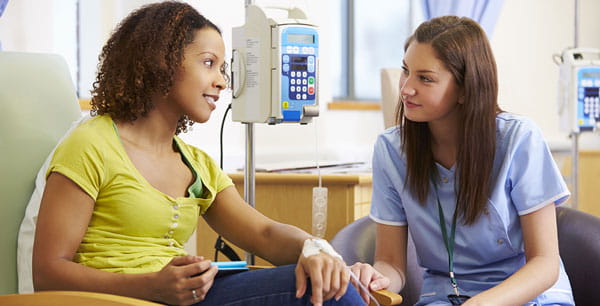 No two leukemia patients' experiences will be the same, yet we can draw parallels across their patient journeys. So, what could you expect upon receiving a leukemia diagnosis? You will likely start with multiple blood tests and scans to get the best understanding of the type and progression of your disease. You may have a Hickman line inserted to reduce the amount of injections you might receive. You may have a course of chemotherapy administered, either as an in- or outpatient. You may be given the option of immunotherapy or a stem cell treatment that may offer you the best chance of recovery. But each of these comes with inherent risks.
While Hickman lines can be convenient, they can oftentimes become infected, which could lead to a patient facing an unexpected hospital stay for IV antibiotic treatment. Similarly, a patient suffering from hemolysis as a side effect of chemotherapy treatment may need to embark on an energy-intensive trip to their hospital's outpatient department for a much-needed IV infusion. Such a trip could be dramatically difficult for a leukemia patient, as it would not be unrealistic to spend a whole day travelling to the hospital, receiving an IV infusion, and waiting for the side effects of any medications to wear off before driving home.
Chemotherapy, immunotherapy and stem cell treatment all come with their own inherent risks. Chemotherapy treatment runs the risk of the patient suffering from "chemo fog" which can impair memory. Hair loss, propensity to easily bruise, anaemia or a sore throat are also common side effects. Immunotherapy poses risk of side effects including skin reactions, skin redness, blistering, and dryness. The risk to patients undergoing stem cell treatment include inappropriate stem cell migration, immune rejection of transplanted stem cells, haemorrhage during neurosurgery and postoperative infection. So, there are risks with all forms of treatment for leukemia.
Being by the side of the patient is at the heart of West culture. Our teams are incredibly motivated to bring to market primary packaging which can deliver drugs to help improve patients' lives. Our SmartDose® Drug Delivery Platform was created to improve the patient experience by helping to reduce the amount of time spent on inpatient hospital stays and outpatient department visits. The SmartDose Injector can enable self-administered, subcutaneous injections up to 10mL at a location that is convenient to the patient and away from the hospital or clinic. West's SmartDose Injector is already approved for use with an approved drug and commercially available in the US, Europe and Japan. Contact a West representative to learn more about our oncologic drug delivery solutions.
To learn more about common challenges in developing oncology drugs and proven solutions, please visit our oncology focused page or click here for support in managing those challenges.
SmartDose® is a registered trademark of West Pharma. Services IL, Ltd., a subsidiary of West Pharmaceutical Services, Inc.