Henry Zhang
Specialist, TCS China
Seals Designed for Sterile Crimping – Benefits for Cell Therapies
Cell therapies show tremendous promise for the treatment of a variety of life-threatening diseases. Their approvals are increasing. Because cell therapies are extraordinarily expensive, it is imperative that the primary packaging system maintain integrity through the shelf life.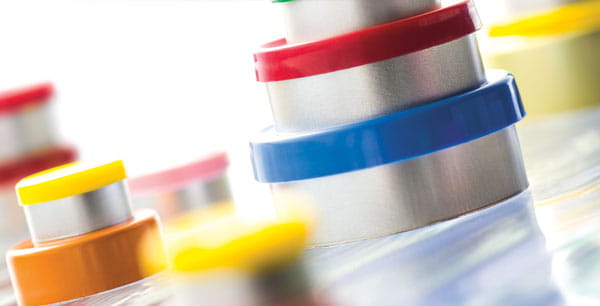 As a result, regulatory guidelines and requirements for pharmaceutical manufacturers are becoming more stringent. For example, the European Medicines Agency (EMA) has mandated requirements on clean and aseptic crimping in GMP environments, in order to minimize risks of microbiological contamination (Manufacture of Sterile Medicinal Products Annex 1). The U.S. Food and Drug Administration (FDA) likewise has mandated requirements, in particular on bioburden: "Knowledge of the bioburden is important in assessing whether a sterilization process is adequate." (Sterile Drug Products Produced by Aseptic Processing).
Sterile seals are required for aseptic crimping. Manufacturers cannot afford to expose cell therapies to risks associated with unsuitable packaging components. To enable this, West offers Flip-Off® CCS seals (clean, certified, sterilized) that are ready-to-use for aseptic crimping inside Grade A environments. Flip-Off CCS seals are an ideal choice for small quantity filling of high-value drugs, like cell therapies. The buttons are manufactured from a gamma-stable polypropylene resin and are washed in a pharmaceutical washer prior to assembly. The aluminum shells are treated with a specially developed coating in order to avoid particles resultant from abrasion. Washed buttons and coated shells are assembled in a Clean Room Zone 8 in operation. With a bioburden level specified before sterilization, and a certified low particulate level, Flip-Off CCS seals help to minimize contamination risks, while meeting the highest market and regulatory requirements.
West's Ready Pack™ System includes Flip-Off CCS seals, along with other high-performing components, such as West NovaPure® stoppers, Schott adaptiQ® glass vials, and Daikyo Crystal Zenith® vials. Ideal for all cell therapies, the Ready Pack system can aid moving through the phases of development. For more information, please contact a Technical Customer Support (TCS) representative.
Flip-Off®, Ready Pack™ and NovaPure® are trademarks and registered trademarks of West Pharmaceutical Services, Inc., in the United States and other jurisdictions.
Crystal Zenith® is a registered trademark of Daikyo Seiko, Ltd.
adaptiQ® is a registered trademark of Schott AG