The challenge of assuring integrity of a sterile package is more complicated than many realize. As such, drug formulators in pharmaceutical and biotechnology companies often times underestimate the potential impact of the primary packages they select. A critical aspect to understand is container closure integrity (CCI) and leakage (i.e., failure of CCI or package integrity), is a major quality issue for sterile injectable products, as shown below.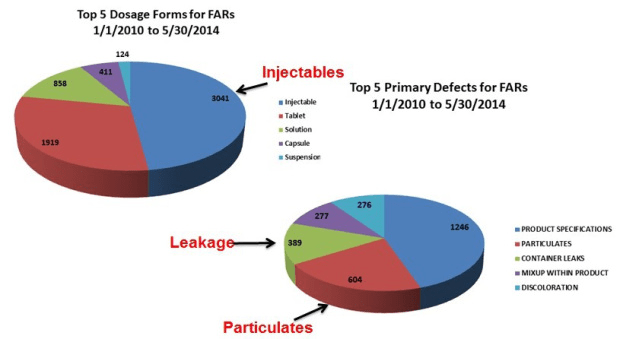 Recently, a new USP chapter was released that provides guidance on the integrity of packaging intended for sterile products. This comprehensive chapter provides an overview on various considerations. It consists of several sections:
<1207>
This includes an overview, general introduction, and glossary.
<1207.1> Package Integrity Testing in the Product Life Cycle
This section discusses test methods selection and validation. It also states that in order to choose appropriate test methods, there is a need to understand the package design, materials of construction and mechanics.
Also discussed is the critical importance of understanding the Maximum Allowable Leakage Limit. Determining this Limit, which is specific to the sterile product, is typically the responsibility of the package engineer.
Further, there is discussion of deterministic versus probabilistic methods. Deterministic methods (i.e., methods that follow a predictable chain of events and can be controlled) are recommended for objective quantitative data.
<1207.2>
This section discusses leak test methods and their proper use. Deterministic and probabilistic methods are considered. Probabilistic methods, such as blue dye testing, and microbial challenge, were very common to the industry in the past.
<1207.3>
Finally, there is discussion of package seal quality test methods. Package seal quality tests are used to characterize and monitor the quality and consistency of parameters related to the package seal. These provide some assurance of the package's ability to maintain integrity. Seal quality tests and CCI tests work together to ensure package integrity.
It is recommended that anyone involved with choosing, or supporting, sterile packaging become familiar with this USP chapter—as it becomes effective August 1, 2016. Please contact West's Technical Support or Analytical Lab Services if you are interested in further consultation or support on this subject.