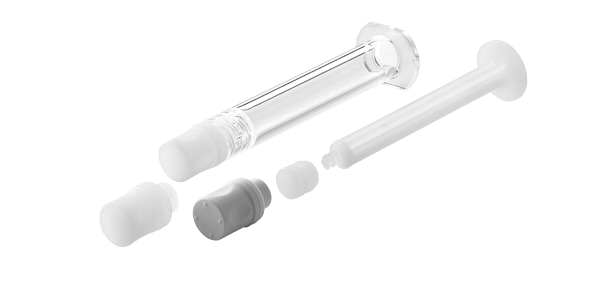 Despite the widespread success of these drugs, when it comes to the safety of patients receiving ophthalmic injections, there is a need to improve the packaging and delivery systems. Injection of silicone oil either from traditional prefilled or disposable syringes can cause floaters in the vision or Weiss rings. Endotoxin, microbial contamination or particulate matter from packaging or delivery systems can lead to conditions such as sterile intraocular inflammation or even the very serious condition of endophthalmitis, which can cause blindness. For this reason, cleanliness requirements for ophthalmic primary packaging and delivery systems are more stringent than typical parenteral applications.
West can help to make ophthalmic injections safe with primary packaging components and assemblies that can eliminate silicone oil, mitigate risks of protein aggregation and offer low endotoxin levels. Daikyo Crystal Zenith® syringe assemblies are silicone-oil-free and contain Flurotec® coated elastomeric closures which provide exceptional barrier properties to reduce leachables. West 0.5 mL Flurotec® plungers for glass syringes and Daikyo Crystal Zenith® 0.5 mL conical vials are also commercially available to help support all lifecycle management aspects of ophthalmic drug delivery. West is dedicated to delivering safe solutions for complex drug delivery.
For more information, contact a Technical Customer Service (TCS) representative, or visit our Knowledge Center.
Daikyo Crystal Zenith® is a registered trademark of Daikyo Seiko, Ltd.

Daikyo Crystal Zenith® and Flurotec technology is licensed from Daikyo Seiko, Ltd.

FluroTec® is a registered trademark of West Pharmaceutical Services, Inc., in the United States and in other jurisdictions.