Jay Stephens
Technical Account Manager, TCS
Pharmaceutical Packaging Trends in 2017: Part 1 – The Evolution of Biologics Is Instilling Packaging Changes
To continue to learn and innovate is truly a daunting task. The journey to success has many ups and downs, but the end of that journey is not necessarily about knowing what worked or did not, but what to do with those learnings. In West's journey to becoming a world leader in integrated containment and delivery (i.e., our learning experience), we continue to focus on market needs and listen to the voice of the customer. There are few better places to engage with customers and learn about the state of an industry than a trade show or conference. Below are some learnings (Part 1) – first-hand accounts of changes and trends that are shaping the pharmaceutical landscape that have been the topic of conversation at recent shows. Stay tuned for Parts 2 and 3.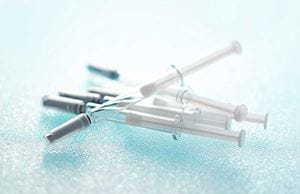 Biologic drug formulations are becoming the focus of many treatments -- from immunotherapeutics to cell and gene therapies. This segment's dynamics continue to evolve at a pace where new formulations are being discovered rapidly, and in some instances, traditional packaging solutions are becoming increasingly incompatible. For example, a cure for a rare disease may lack the right containment solution. Certainly, this demands a new solution be brought to the market in order to treat patients in need.
These new drugs differ from their traditional small-molecule counterparts in that unfavorable interactions with primary packaging components are much more of a concern. For example, a glass vial can delaminate, leading to unwanted glass flakes in a drug formulation. Furthermore, contamination of syringes with heavy metals, i.e., tungsten, can result in complexation with drug formulation and subsequent deactivation.
At West, we offer a solution that can accommodate these concerns: Daikyo Crystal Zenith® cyclic olefin polymer containment and delivery systems – a high-performance alternative to glass. It is an integrated life-cycle solution that is designed to protect drug safety, purity and efficacy – from development through delivery. Keeping up with the market trend of biologics, West can provide the biopharmaceutical industry with a solution to administer lifesaving medications safely and effectively.
For more in-depth discussion on Daikyo Crystal Zenith and other West solutions for your biologic drug product, please contact a Technical Customer Support representative.
Daikyo Crystal Zenith® is a registered trademark of Daikyo Seiko, Ltd. Crystal Zenith technology is licensed from Daikyo Seiko, Ltd.