Analytical techniques typically performed during extraction studies include:
Volatile Organic Compounds — Headspace Gas Chromatography-Mass Spectrometry (GC-MS)
Semi-volatile Organic Compounds — Direct injection GC-MS
Non-volatile Organic Compounds — High Resolution Accurate Mass (HRAM) Liquid Chromatography-Mass Spectrometry (LC-MS)
Elemental Impurities (metals) — Inductively Coupled Plasma Mass Spectrometry (ICP-MS)
Ionic Species — Ion Chromatography
Additional Techniques
ICP-Tandem MS

ICP tandem MS offers unparalleled performance for the removal of polyatomic interferences, allowing for ultra-trace analysis in the most demanding matrices.

Ion Mobility HRAM LC-MS

Complex matrices are not a problem with the added ion mobility capability
Accurate mass for detected compounds
The instrumentation allows for better separation which can lead to more information for unknown compounds
Verisure® and E2L Services Support your Extractables and Leachables Studies
Pharma and biotech companies needs to combine the containment system or combination product with analytical expertise to meet agency expectations and quickly progress through the extractables and leachables process. In order to help our customers, West Analytical Services has developed two unique tools, VeriSure® Technical Packages, specifically for our 4023/50 Gray and 4432/50 Gray formulations and E2L testing services to support their extractables risk assessment.
The VeriSure technical packages provide comprehensive technical packages for extractables which customers access online. They were created as a service to our customers to allow them the use of this data to support their regulatory filings in showing that their products meet extractables testing guidances. The package is a semi-qualitative compilation of results excerpted from years of data and studies for these formulations. Extractables data is acquired using multiple solvents, extraction conditions and analytical techniques. Study variables include:
cure conditions
multiple manufacturing sites, both domestic and international
multiple component configurations
post-processing considerations

The E2L testing is a service that provides a risk assessment for extractables to determine what leachables a manufacturer may want to focus on for their leachables studies. A risk assessment report is provided to assist in determining analytes for leachables method development. The assessment, based on measurable criteria, evaluates each extractable identified in the extractables assessment and ranks the risk based on 3 categories: low, medium and high risk. The report includes explanations of the criteria used to assess the risk, a color-coded visual reference table that ranks the extractables, and a total risk ranking for each extractable. West's E2L testing assists our customers with their risk assessment, but it does not remove the need to perform a risk assessment for leachables specific to their drug products. It should also be noted that Analytical Services can provide the E2L risk assessment for any extractables services and not just those related to the VeriSure technical packages.
The VeriSure technical packages and the E2L risk assessment can help customers move efficiently through the first stage of the extractables and leachables process for their packaging components.
Downloadable Resources
* Requires Knowledge Center account to access.

BY YOUR SIDE
By Your Side with Analytical Solutions from West – Extractables and Leachables Testing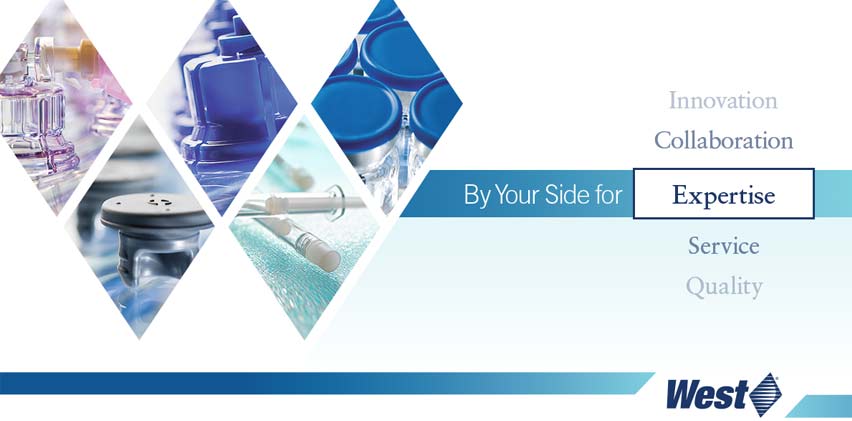 SelfDose™, VeriSure™ and E2L logo are trademarks and registered trademarks of West Pharmaceutical Services, Inc., in the United States and other jurisdictions.
SmartDose® is a registered trademark of West Pharma. Services IL, Ltd., a subsidiary of West Pharmaceutical Services, Inc.
West Services and Solutions LLC is a wholly-owned subsidiary of West Pharmaceutical Services Inc.