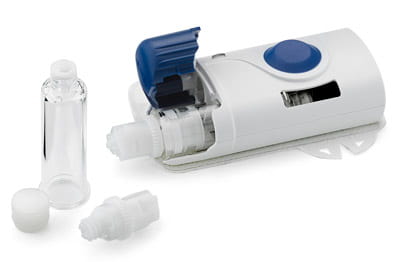 For the 2017 MDEA, a jury of healthcare practitioners, designers, engineers, manufacturers and human factors experts selected finalists in nine medical technology product categories. Products were judged based on design and engineering innovation; function and user-related innovation; patient benefits; business benefits; and overall benefit to the healthcare system. West's SmartDose platform is a finalist in the for the "Drug-Delivery and Combination Products" category.
The SmartDose platform is a single-use, electronic wearable injector that adheres to the patient's body, usually on the abdomen. Discreet, intuitive, and designed to minimize discomfort, the SmartDose platform currently incorporates a polymer-based drug container (made from Daikyo Crystal Zenith® cyclic olefin polymer) with a drug delivery device that can be pre-programmed to deliver high volumes of viscous or sensitive drug products over time, making it easier for patients to self-administer medication outside of the clinical setting.
While developing the SmartDose platform, it became clear that when patients deem a drug delivery system inconvenient, there can be a negative effect on the emotional attitude and motivation to sustain adherent behavior. As a result, the SmartDose platform was developed with extensive human factors testing to address potential obstacles to compliance:
Improved patient comfort: The SmartDose platform was designed to maximize comfort throughout the drug delivery process thanks to the hidden 29 gauge needle featured in the automatic needle protection design that help prevent accidental needle injuries. Upon safely completing the injection, SmartDose can be easily removed.
Discreteness: Many patients prefer a delivery mechanism that is not visible to others. Special consideration was taken with the SmartDose platform to ensure that it is easily concealed to avoid calling undue attention to the system, creating distractions to others or creating feelings of stigmatization.
Ease of use: Because injectable medications are administered completely by the patient with the SmartDose platform, the process needed to be so intuitive. To this end, the SmartDose platform currently allows for the patient to load the cartridge containing the drug. A user-friendly activation button on the front of the device and LED indicator lets the patient know that the dose delivery is in progress.
Dose notification: A critical aspect of the SmartDose platform is its patient-focused design elements that address the possibility a user did not receive the full dose, or did not receive their medication at all. To account for this possibility, the device is equipped with a microprocessor that is designed to offer immediate feedback via a dose confirmation window and visual and audible cues indicating whether the prescribed medication was delivered.
This year's winners will be announced at the 2017 MDEA Ceremony on June 13, 2017, in conjunction with MD&M East event at the Jacob K. Javits Convention Center in New York. To learn more about the Medical Design Excellence Awards and the list of finalists, visit MDEAwards.com.